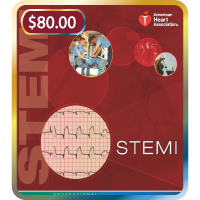 Rapid STEMI ID
This self-directed, online course prepares healthcare professionals to evaluate and assess patients with potential symptoms of myocardial
infarction, interpret ECGs for signs of STEMI (ST-elevation myocardial infarction) and activate a system of care for rapid reperfusion of an occluded coronary artery. <<READ MORE>>
Learn: Rapid STEMI ID supports the efforts of the American Heart Association's Mission: Lifeline®, a national initiative to improve quality
of care and outcomes in heart attack patients by improving healthcare systems' readiness and response to STEMI patients. No skills session is required to complete the course; however, students will receive a certificate of completion upon successful completion, and physicians, nurses, and EMS will be eligible to apply for continuing
education credits.
Course content:
Understanding STEMI Systems of Care and STEMI recognition
Basics of acute coronary syndromes (ACS) and triage of STEMI patients
Acquiring high-quality, 12-lead electrocardiograms (ECGs)
12-lead findings that mimic STEMI
Coronary anatomy related to 12-lead ECG
Indications for activating a Heart Alert System
Course includes:
Practice 12-lead ECG test
2-part AHA exam
Certificate of completion available to print upon successful completion
Access to course content for one year following activation of course key
Intended Audience:
This course is for healthcare professionals who want to improve their STEMI recognition and assessment skills, or for healthcare professionals seeking to obtain continuing education credits This course is not compatible with Macintosh computers or operating systems. This course requires Macromedia Flash 10 or above, and Javascript and Cookies enabled.
Please fill out the form below for the online class
Cancellations and Refunds: Refunds: Online Courses are Non-Refundable. When payment is complete you will receive an email confirmation.* PLEASE BE AWARE PAYMENTS MAY TAKE UP TO 24 HOURS TO PROCESS* Open the email for instructions to start your online course.Once we send out your Email confirmation the online key cannot be regenerated. You have 2 months to complete the online course. If you do not show up or are late for a class you have 2 months to re-take another course or Skills Session at no extra cost. Please give us notice if you plan on re-scheduling so that we can reserve you a seat. Thank you.