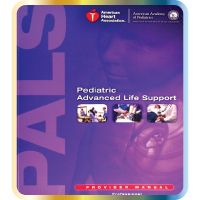 Heartcode PALS:
HeartCode® PALS s a web-based, self-directed program that teaches healthcare providers knowledge and skills needed to recognize and prevent cardiopulmonary arrest in infants and children.
Using eSimulation technology, students assess and treat patients in virtual healthcare settings where they can apply their knowledge to real-time decision-making and skills development. Debriefings and coaching are provided immediately after each simulation to facilitate learning about pediatric advanced life support.
After completing HeartCode PALS Part 1, students must successfully complete a hands-on skills practice and testing session (parts 2 and 3) with an AHA PALS Instructor. Students will receive an AHA PALS course completion card, valid for two years, upon successful completion of all three parts.
This course has been tested on Windows XP and Mac OSX, with Internet Explorer 8+ or Firefox 2+. Please do not use the Internet Explorer 10 browser with this course. HeartCode programs are not supported by Apple Safari.
Cancellations and Refunds: Refunds: Online Courses are Non-Refundable. When payment is complete you will receive an email confirmation.* PLEASE BE AWARE PAYMENTS MAY TAKE UP TO 24 HOURS TO PROCESS* Open the email for instructions to start your online course.Once we send out your Email confirmation the online key cannot be regenerated. You have 2 months to complete the online course. If you do not show up or are late for a class you have 2 months to re-take another course or Skills Session at no extra cost. Please give us notice if you plan on re-scheduling so that we can reserve you a seat. Thank you.